---
To one extent or another, we've been watching the middle of next week for a while now. All along, we felt that the evolution of the Sunday Night/Monday interior Wintry threat and the amount of moisture it draws north would have some impact on this particular system…and that continues to be the case. It still seems like moisture availability for that first system is not all that great, which will leave behind some moisture for the Tuesday through early Wednesday period. The biggest questions right now revolve around just how dry the air ahead of the system will be and the evolution of the low pressure structure. There are signs of two different lows in play which can rob one another of moisture…that coupled with dry air (especially from Northern NJ into New England) could make it hard to precipitate, where a forecasting saying "Two Lows Never Flows" may come into play. An additional limitation from a snow and ice perspective is that cold air is only marginal, and probably won't be too far from freezing.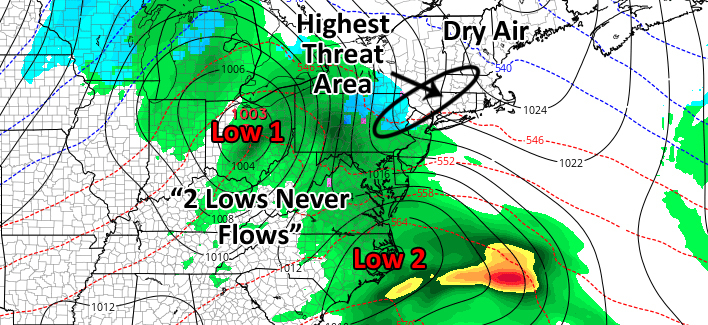 Having said all of that, we do believe this system will pose a wintry threat to the interior, mostly Tuesday Night, north of I-78 in PA/NJ and beyond into southwestern New England (places east of Nashua, NH to Worcester, MA line have a threat, but dry air will diminish it compared to areas to the southwest). For the core threat area, this looks like a coating – 2″ kind of threat, with the best chances to see those low end plowable numbers in NE PA or NW NJ where there may be just enough moisture with enough cold air. Higher elevations of the Catskills, NW Connecticut and the Berkshires could see some higher numbers, assuming moisture is able to stream far enough north…which at this point is a decent if at this time. In addition to the potential for snow, sleet and even perhaps freezing rain (mainly higher elevations/elevated valleys) may be an issue as air may warm above the surface a little faster than near the ground. The model output below kind of gives a sense of the range of possibilities, the GFS showing higher moisture to the north, and the Canadian showing drier conditions…we favor a solution between the two, with regard to coverage, perhaps a little closer to the GFS. (Editor's note: these maps are total snowfall over a 6 day period…a lot of the high snow amounts in upstate NY and western PA come from snow forecast to fall 12/3-12/5…not from 12/6 & 12/7).

A quick word about the Frederick, MD – Hagerstown, MD – Harrisburg, PA corridor…temperatures are likely to be mild, with mainly rain…but there's a potential for a brief period of sleet near the onset of precipitation.
Mainly a concern from the interior of PA into western New England
Coastal plain south of NYC into Virginia sees mainly rain, with some pockets of sleet
Areas that see snow likely have a salting, or at most a low-end plowable event